Realeyes Farm Permaculture Design – Vision and Goals
Realeyes Farm Permaculture Design Plan 2013

*All maps are oriented with South at the bottom of the page.
This undertaking was inspired by the realization that if the current status quo persists, human life will not be viable in the future on this planet. Permaculture offers us the tools to imagine a world transformed into a permanent healthy ecosystem which provides all our needs. So now that we know where we're at, and we know where we need to go, it's a simple matter of getting from point A to point B; navigating any obstacles (inner and outer) that get in our way along this path. This project represents our experiments at finding our way through opening our awareness to the patterns and lessons of the land.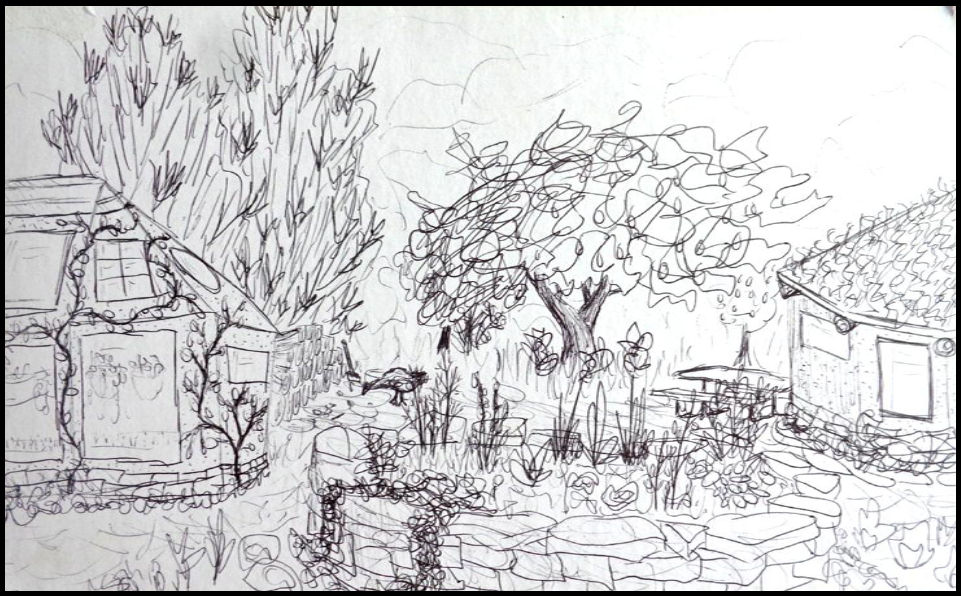 The food forest serves as a mother colony of useful plants; a sort of living ark, which useful species will be propagated outwards first to the rest of the land, then to neighbors and the greater community. What use is my retirement savings; what good is raising a child if we allow our life-support systems to fail simply through improper management? Since we have the tools in our hands to do it right, there is no other option but to dedicate all energy and resources to this transformation until the work is done.
This is a space for the relearning of lost skills, and discovery of new ones, rebuilding our connection with the land and one another, the radical relocalization of our resource supply lines, and for reprogramming our patterns of thought and behavior to be in more harmony with the community of life that we're members of.
Goals:
Provide healthy, nutrient dense food for our community
Create a plant nursery of useful and well adapted species
Host workshops on Nutrition and Permaculture
Provide our income from the land sustainably
Protect the existing soil and ecosystems and regenerate the damaged ones
Create a mostly self-managing food forest that will exist for millennia, that expands outwards
Spread awareness of alternative solutions to meeting our basic needs
Put the permaculture lifestyle into practice in our lives, producing more than we consume
Provide the information and tools for others to follow this path
Be completely off-grid
Reduce outside inputs to the system to a bare minimum
Be of service to our community
Sequester more carbon than we produce
Understand and use native and introduced plants responsibly
Create structures and systems which can exist and support life permanently
Work through any legal barriers to these practices
Do a "Needs Assessment" of our community and possible ways to utilize existing ecosystems to meet these needs locally and sustainably (harvest acorns, timber lots etc.)
Provide most of the feed for the animals on site
Ensure that this land and these systems are maintained and used into the distant future
*As always we are way open to input and guidance with this process so please share any thoughts, or constructive criticisms