Realeyes Farm Permaculture Design – House Design
Realeyes Farm Permaculture Design Plan 2013

*All maps are oriented with South at the bottom of the page.
*The house design is still up in the air, but here's a snapshot of one approach…
Main Design Considerations:
Small enough to be easily heated by one rocket stove
Be passively heated partly by the sun in winter, but not in summer
Very well insulated to hold in heat, and keep out cold during the winter
A substantial volume of thermal mass within the insulation layer to help buffer the temperature
Made of locally sourced natural materials
House 2-3 people
Include a sleeping loft, full bathroom, storage, full kitchen, and eating/seating areas
Have potable water on tap; cold year round, hot most of the time.
Constant source of renewable, off-grid electricity
Strong roof to withstand the snow load
3ft deep foundation to avoid frost heave, and splash up of rain
Wind sheer anchors to prevent roof uplift
Vapor barrier to prevent moisture build up inside house, and radon gas infiltration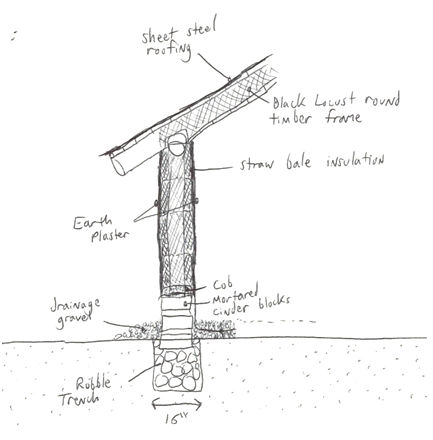 Area – 269.7sq. ft
Shape – Pentagon
Side length (5 sides) – 12.5ft
Circumradius – 10.62ft
Inradius – 8.62ft
Height – 15ft
Frame – Timber, round 12ft black locust poles
Walls – Strawbale and covered on the inside with a mud plaster and the outside with limestone based plaster.
Roof – 3:12 slope, made of black locust slab shingles, and insulated underneath with light straw-clay
Foundation – Rubble Trench, Cinder block, wind sheer anchors, vapor barrier
Floor – Earthen floor (for thermal mass)
Passive Solar Overhang Calculations (in feet):