If you have read my past "What are Healthy Fats?" post you know that you should use cold pressed, organic, unrefined, and extra virgin oils. This stands true for dressings or any other way you choose to use your oils including cooking.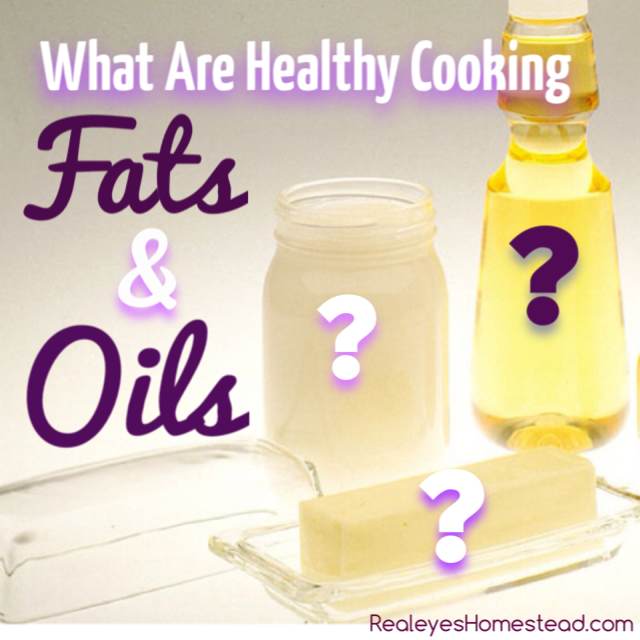 What determines if an oil or fat is safe to cook with?
The more stable the fat the more heat it can withstand. So what determines the stability of a fat? We have to look at the chemistry makeup of the fat analyzing the number of double bonds and degree of saturation.
The most stable fats are solid or semi-solid at room temperature. These fats do not contain any double bonds and are called saturated fats. They do not go rancid easily. Saturated fats are animal fats like butter and lard and tropical oils including coconut and palm oil. Saturated fats are highly stable and they can withstand the highest cooking temperatures. Therefore, they are great for the frying pan and baking.
Monounsaturated fats are relatively stable and are liquid at room temperature. They contain one double bond. Monounsaturated fats are found in olive, avocado and peanut oil. Monounsaturated fats should only be used to cook with at very low temperatures as they cannot withstand as much heat as saturated fats. They are okay for light sautéing at lower temperatures.
The least stable fats are polyunsaturated fats. They are liquid at room temperature, contain many double bonds and turn rancid easily. Polyunsaturated fats are found in soybean, corn, safflower, nut and seed oils. Polyunsaturated fats should never be heated or used for cooking. Raw, cold pressed nut and seed oils are good to consume on salads and dressings. These oils should be stored in dark containers in the refrigerator.
All oils contain a combination of saturated, monounsaturated and polyunsaturated fats; it is the ratio that we are referring to that determines saturation type.
What Makes a Fat Dangerous?
When a fat is oxidized, goes rancid, or is processed it becomes very unhealthy. A tablespoon of rancid, oxidized oil can be like smoking a pack of cigarettes in free radicals! Fats go rancid and are oxidized when exposed to oxygen, light and heat. This is why it is important to store your oils in airtight containers, away from light and heat. Therefore, polyunsaturated canola and vegetable oils sold at supermarkets in clear, plastic bottles shelved under bright light and unrefrigerated are NOT healthy!
So what fats are the safest cooking fats? Saturated fats which are the most stable and can withstand the most heat are the safest to cook with. These include animal fats like butter, lard and tallow as well as tropical oils like coconut oil and palm oil. Make sure all oils are cold pressed and unrefined! In general it is always good to avoid hydrogenated and partially hydrogenated oils (hydrogenation is a type of chemical processing), trans-fats, and fried foods.