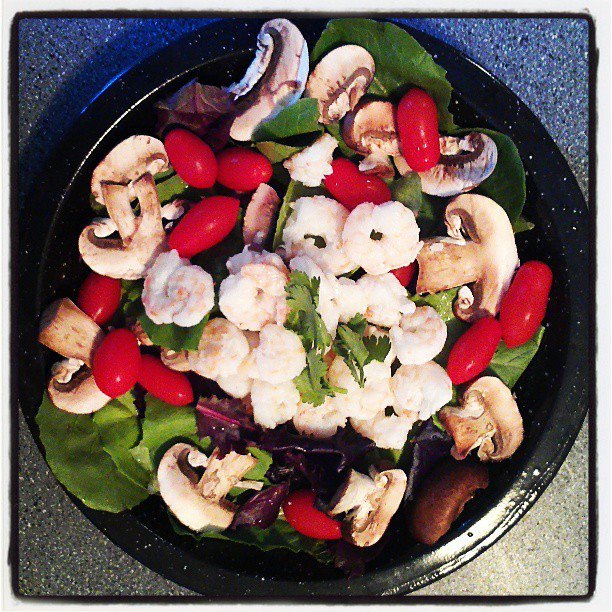 Quick, Easy Shrimp Dinner
2013-12-01 01:13:52
A quick and easy shrimp dinner you can throw together after a busy day at work!
The Shrimp (amount for 2-4 salads)
16 oz. Bag of Frozen Wild Caught Shrimp (throw into refrigerator the night before to defrost)
Tablespoon of Cold Pressed Coconut Oil
Generous Splash of Lime Juice
3 Cloves of Garlic, Minced
Salt & Pepper to taste (Optional)
The Raw Veggies (amount for each plate)
Generous Handful of Mixed Greens
Handful of Grape Tomatoes
Handful of Cremini Mushrooms, Sliced
Generous Pinch of Fresh Cilantro
Instructions
Saute shrimp in cold pressed coconut oil for about 2 minutes.
Add lime juice, minced garlic, salt and pepper.
Saute until shrimp is fully cooked (no longer translucent).
On a plate, place the mixed greens, tomatoes, and mushrooms.
Add sauteed shrimp and top with cilantro.
Notes
When possible veggies should be organic or from sustainable farming methods and seafood should be wild caught.
Realize Permaculture Homestead https://realizehomestead.com/