Levi and I came up with this smoked fish brine recipe after giving up on brine recipes online which all included refined sugar of some sort. We were pleasantly surprised with the results! Enjoy 🙂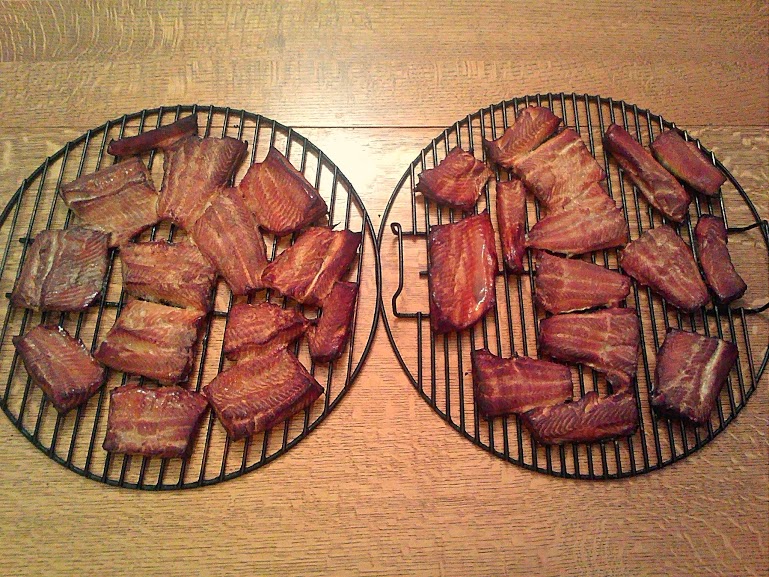 Smoked Fish Brine
2013-11-29 22:13:53
Serves 1
This is a wonderful recipe that uses only natural sugar, maple syrup. The smoke fillets make for convenient snacks. I also like to break up fillets over salads!
Ingredients
1 gallon water
5 fish fillets (For us it is usually about 2.5 lake trout)
1 teaspoon liquid onion, or two medium onions chopped
1 teaspoon liquid garlic, or two cloves of garlic chopped
1 cup canning salt (no anti-caking agent, non-iodized)
Juice of 1 lemon
1 teaspoon black peppercorn
1 teaspoon ground pepper
Instructions
We use this recipe with fresh lake trout and salmon we catch in lake Michigan. We clean, de-bone, rinse, and cut the fish into fillets before putting it into the brine. We also remove the fat from the fish to avoid mercury which is stored in the fat of the fish.
Combine all ingredients in cold water and stir to make brine
Soak fillets for 24 hrs in brine
Rinse fillets
Pat fillets dry and coat with maple syrup (we brush on maple syrup with a silicon brush)
Smoke for 1.5 hrs at 220-240 degrees (we use plain water in water pan and use either hickory wood, cherry wood or apple wood)
About 15 minutes before they're done smoking apply another layer of maple syrup to the fillets
Notes
We have apple trees and break off and use dead small branches and twigs from them to use.
Realize Permaculture Homestead https://realizehomestead.com/