Permaculture Realized Podcast Episode 5, Commercial Scale Composting and Recycling with Andy Gale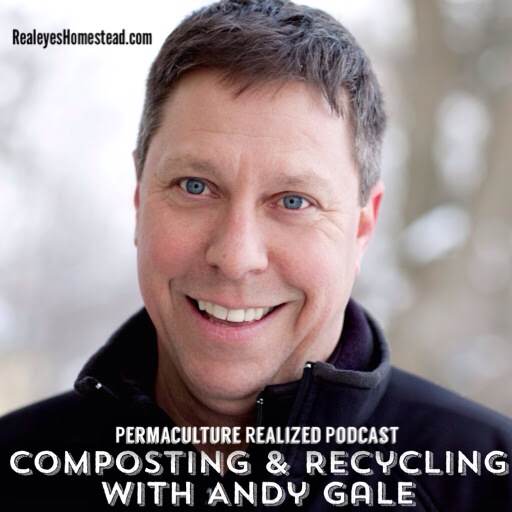 Episode 5, Commercial Scale Composting and Recycling with Andy Gale

Early in the spring this year we began using Realeyes Homestead as the commercial scale composting site for Traverse City. It has been a great partnership with Bay Area Recycling for Charities, a non-profit that created and runs the composting operation.
Our soils are very depleted in nutrients and organic matter, so this influx of 3 trailer loads of organic matter per week has given us a big boost during this boot-up phase of the farm.
It has also been a great source of free animal feed. We separate the food waste thats mostly fresh veggies and feed it to our animals instead of composting it. We have 30 ducks and chickens, and 13 pigs and 90% of their diet is the free food waste!
It's a win-win situation because our site is located close to town, and it gives BARC a close composting site which cuts down on the cost of transporting this heavy material.
Today I'm talking to Andy Gale, the founder of Bay Area Recycling for Charities. We get to hear the inside story of a commercial scale recycling operation.
Andy definitely has his heart in recycling, and continues to push and innovate the field every day. It's an honor to work for such an organization, even if I am a glorified garbage man.
When I'm not composting though, I'm working for the non-profit SEEDS conducting afterschool lessons. For one lesson at a middle school we allowed the trash to accumulate in the classroom for a week. Besides the foul odor, one thing we noticed was that the vast majority of the trash was some sort of food packaging. And the further the food comes from, the more packaging it seems to require. On the other hand, you don't need any packaging for the cumcumbers you give to your neighbor. This reinforces the idea that a key strategy for reducing unnecessary waste is to produce most of our needs locally, especially supporting local food and growing your own. Likewise if we are able to reuse and recycle most of our waste stream at home or in our neighborhood, then this would remove a lot of the overhead of transporting it all to a centralized facility with all the involved machinery, housing and labor costs.
For those things that we DO need to package, we should move away from plastic packaging, and try to use more paper and cardboard which are easier to both recycle and compost.
Until the day when we're all cycling all our products and waste ourselves, my hat is off to organizations like BARC that are taking care of our shit for us, even when it's not profitable to do so. If you believe in what BARC is doing, please make a donation to the cause at MyBarc.org.
If you like this show and want to help it reach a larger audience, all you have to do is give the podcast a star rating and review on Itunes. We have an 8 week window to push into the "New and Noteworthy" section of itunes, which will help many more people discover this podcast. And thank you!
Tune in next week to hear from our guest Mark Angelini about woodcraft with hand tools, and ecological design of farms and homesteads. That, and more to come on the Permaculture Realized Podcast.