Yay! I am excited to do a Tropical Traditions coconut oil giveaway! I love coconut oil. One of the main reasons why I love coconut oil so much is because of the infinite amount of uses for it.
Things I love to use coconut oil for
Cooking! You can basically use coconut oil for cooking in place of butter or olive oil. Like butter, coconut oil is solid at room temperature but turns liquid when heated. Coconut oil melts more easily than butter, it melts at 76° F or higher. I like to bake, sauté, and sir fry with coconut oil. I also enjoy putting it in hot beverages as well as in smoothies.
Body Care! I use coconut oil and baking soda for deodorant (Homemade Deodorant), it prevents my arm pits from smelling, really it does! I also use coconut oil for lotion, it leaves my skin silky smooth. I even use coconut oil on my hair, I rub a little bit between my hands and run it through my ends before blow drying.
Why Tropical Traditions gold label coconut oil? The reason is because of the way the oil is extracted from the coconut.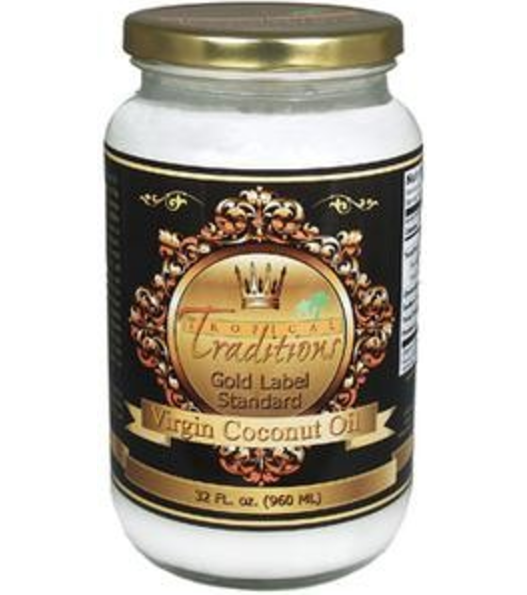 Win 1 quart of Gold Label Virgin Coconut Oil!
Tropical Traditions is America's source for coconut oil. Their Gold Label Virgin Coconut Oil is hand crafted in small batches by family producers, and it is the highest quality coconut oil they offer. You can read more about how virgin coconut oil is different from other coconut oils on their website: What is Virgin Coconut Oil?
You can also watch the video they produced about Gold Label Virgin Coconut Oil:
Tropical Traditions also carries other varieties of affordable high quality coconut oil. Visit their website to check on current sales, to learn about the many uses of coconut oil, and to read about all the advantages of buying coconut oil online. Since the FDA does not want us to discuss the health benefits of coconut oil on a page where it is being sold or given away, here is the best website to read about the health benefits of coconut oil.
Okay the part you have all been waiting for!!! How to win 1 quart of Tropical Traditions Virgin Coconut Oil!
This giveaway starts today and ends on May 6th at midnight. Use the Rafflecopter widget below to enter. You will only be selected if you do all the mandatory entries. All other entries are bonus. Good luck!!!
Disclaimer: Tropical Traditions provided me with a free sample of this product to review, and I was under no obligation to review it if I so chose. Nor was I under any obligation to write a positive review or sponsor a product giveaway in return for the free product.
Full Disclosure: If you order by clicking on any of my links and have never ordered from Tropical Traditions in the past, you will receive a free book on Virgin Coconut Oil, and I will receive a discount coupon for referring you. Thank you for your support!